Once you add a job to Go4, it is posted on our job feed that is displayed to thousands of healthcare professionals. This article walks you through the steps of accepting an applicant for a job and the different statuses you will see on your Go4 dashboard.
When a Healthcare Professional applies to work your job, you will receive an email notification prompting you to log back in, review your applications, and accept who you want to work.
Once you log in you will see a red number under the SHIFT REQUESTS column on your dashboard. When you have a shift request, click on the arrow all the way to the left of the event name to view the applicant(s). To review the applicant's credentials, simply click on their name, and select the credentials you wish to view.
Once you decide who you want to hire, click ACCEPT for the person you wish to work your job. Read below about the different steps and statuses for the hiring process.
ACCEPT
Click an applicant's name to view their credentials. Once you've decided who you want to hire, click the red ACCEPT on the right-hand side next to their name.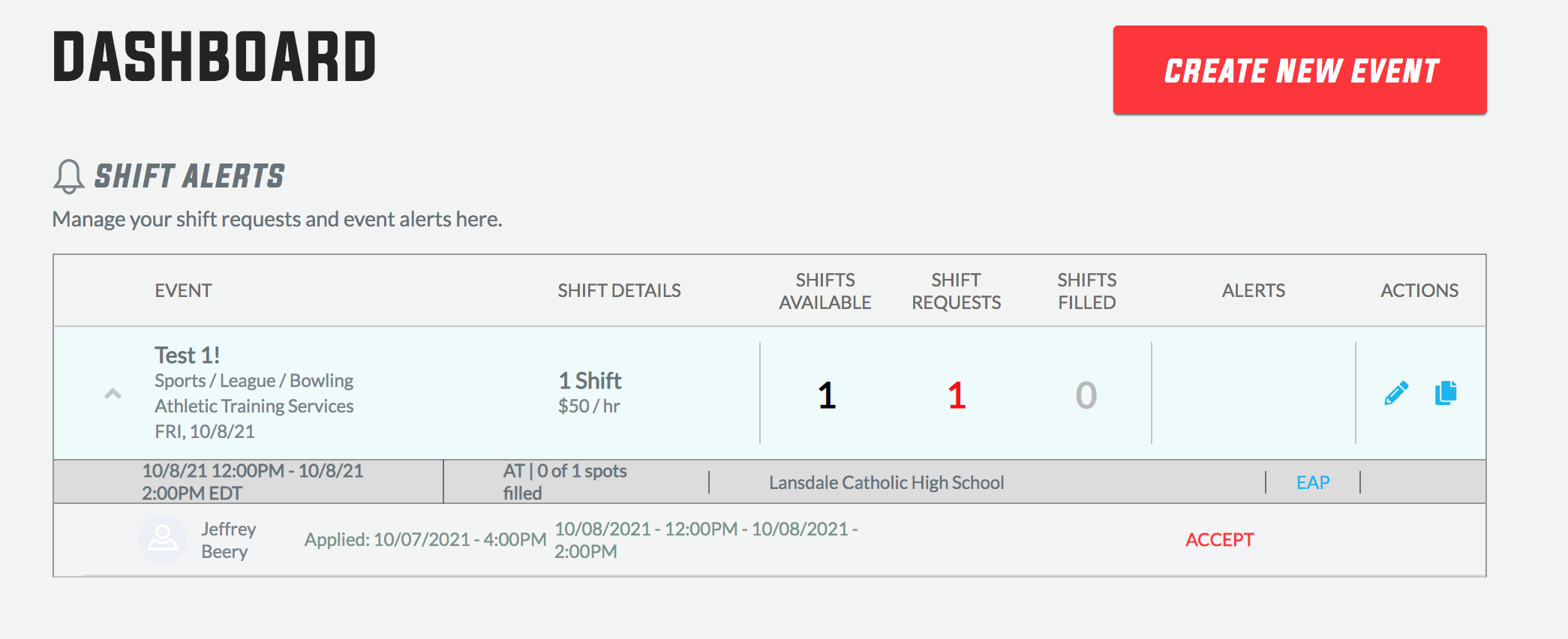 PENDING CONFIRMATION
Once you hit ACCEPT, the status will now change to PENDING CONFIRMATION.
At this point, an email has been sent to the Healthcare Professional, letting them know that you accepted them to work the job. They are prompted to log in to their account and confirm the job.

CONFIRMED
Once the staff member confirms, the status will change to CONFIRMED. This means the applicant accepted the job and has committed to working. This is the final status and there are no more action steps on your end.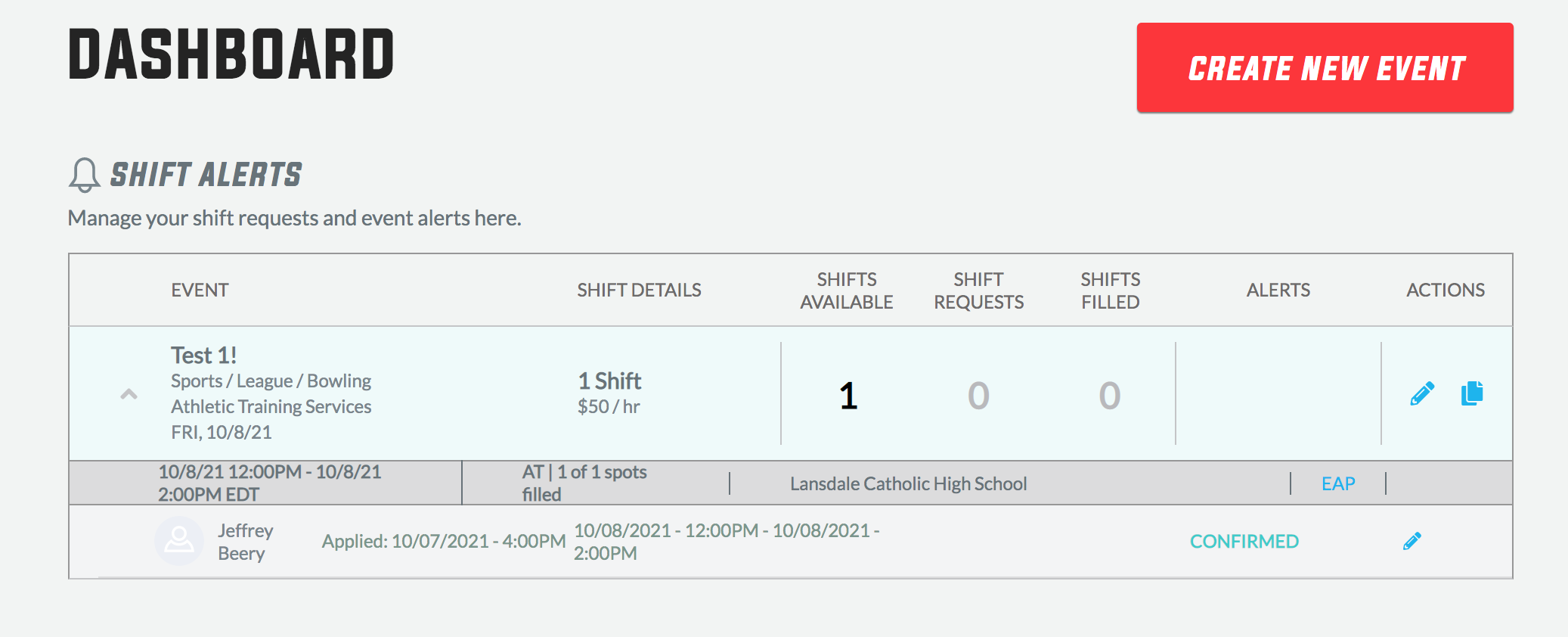 DECOMMITTED
If an applicant is unable to work the shift after they confirm, they are able to decommit from the shift. If an applicant decommits, the status next to their name will be DECOMMITTED. This means they can no longer work the shift.
At this point, you can select a replacement from the waitlist (if you have one), and if there is no waitlist your shift will be re-marketed to other staff on the Go4 platform.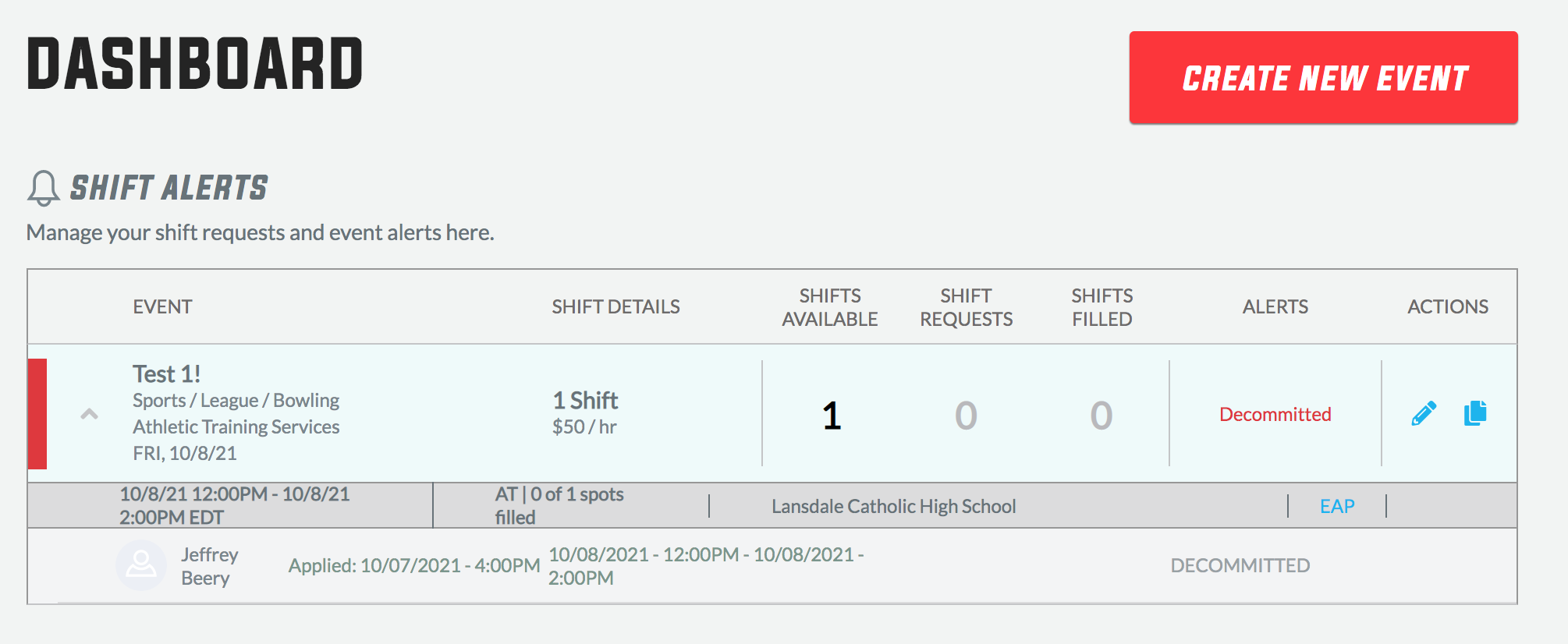 WAITLIST
If you post a job for one Healthcare Professional and you receive two applications, you can only accept one to work. Once the applicant you accept, confirms, the other applicant will automatically be put on a WAITLIST.
If your confirmed applicant decommits or you need to add a shift, you can then select someone off of your waitlist.