Here are the steps you must complete as a Job Poster before you can post a job to the thousands of healthcare professionals in the Go4 Community.
Create an account
It is free to create an account and free to post a job on the platform!
There is no pressure to post a job right away; you can create an account and then talk to someone on our team to learn more about how Go4 works.
Post a Job
Step 1 - Add Information About Your Event
Profession Needed - Currently, Go4 has a community of Athletic Trainers and Registered Nurses ready to work!
Setting - Healthcare professionals work in a variety of settings. This field makes job postings more descriptive.
Setting Detail - This is replacing "Event Type" such as a Tournament or Game. Setting Detail values will be dependent on the Job's Profession and Setting selections.
Job Description - Adding a Job Description will better inform applicants of what the shift responsibilities entail.
Event Code - You can add a custom, unique code to your event. This code does not display to Healthcare Providers in the Go4 App. It will only display on the Go4 Finance Export, which can help with accounting reconciliation.
AVG Rate in Your State - Clicking on this icon will show the average pay rate that transacts for every state.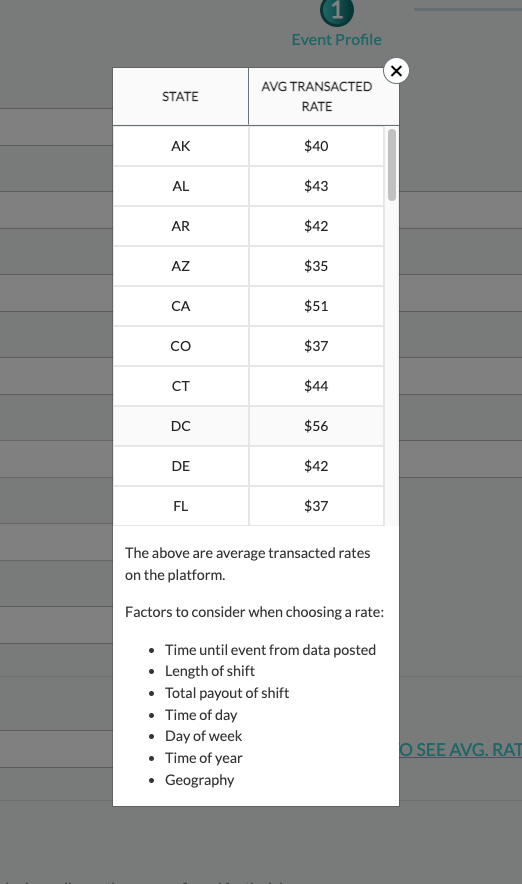 Pay Rates

Hourly -

Your job (if worked) will cost the Hourly Rate x Hours Worked + Fees.

Flat -

This is a single rate for the entire shift, that is charged to you and paid to the healthcare professional once when the shift is over.

For more information on pay rates, click here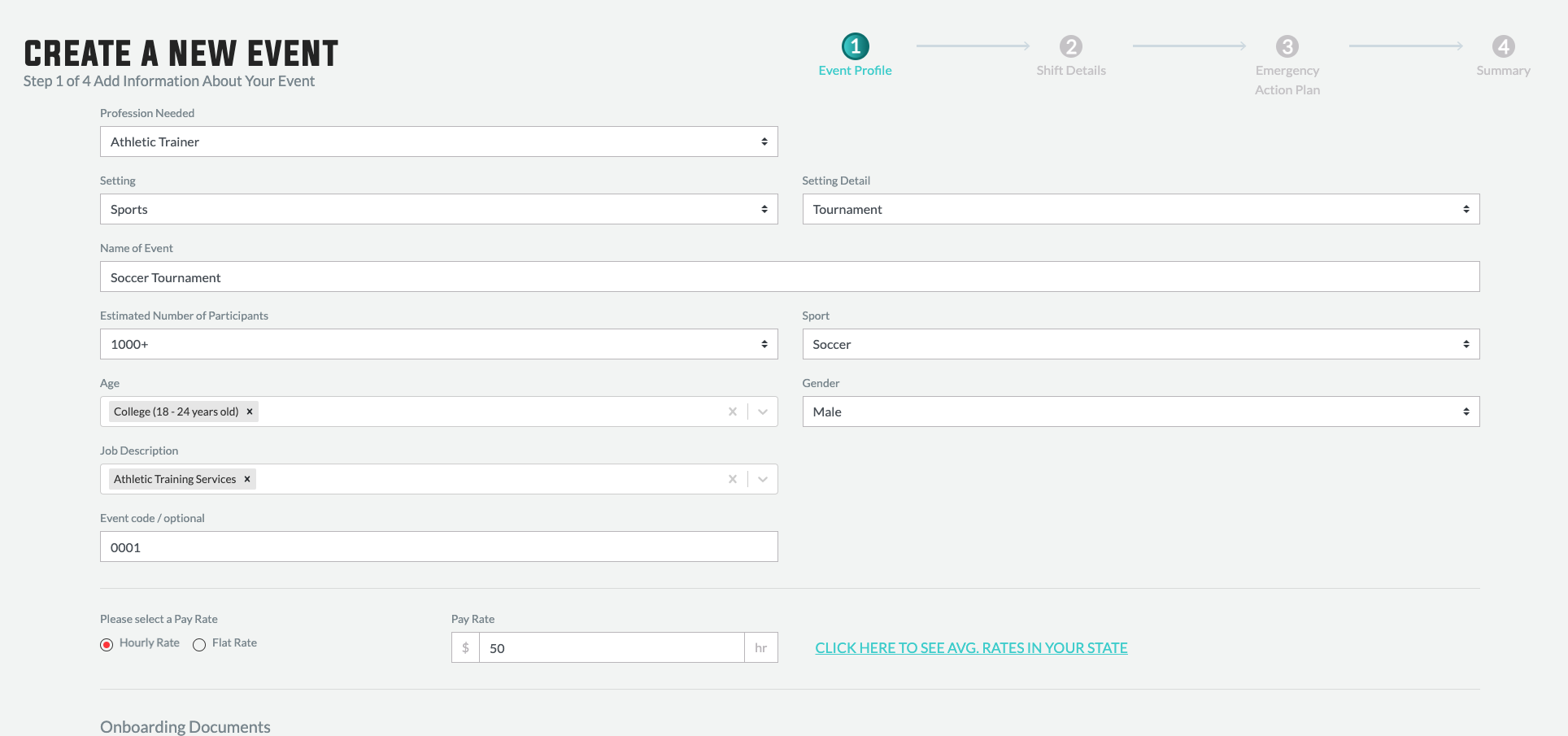 Onboarding Documents - Add additional information or documents that you want applicants to complete. Applicants will receive these instructions and documents once they are accepted for the job.

Step 2 - Add shift details
An event on Go4 can have multiple shifts.
Shift Dates and Start Time - Select the start date and time and end date and time.
Staff Needed for Shift -

Set the number of staff needed for this specific shift. It can be one person, or you can hire multiple people for the same date/time.

Address -

Adding an address is important. Healthcare professionals search for jobs based on their zip codes and the distance they are willing to travel. Make sure the address is accurate.

Shift Details -

Add any additional details or information you want to share with potential applicants about the shift.

Job Contact - Add the Job Contact so the staff working your job can contact someone with questions or issues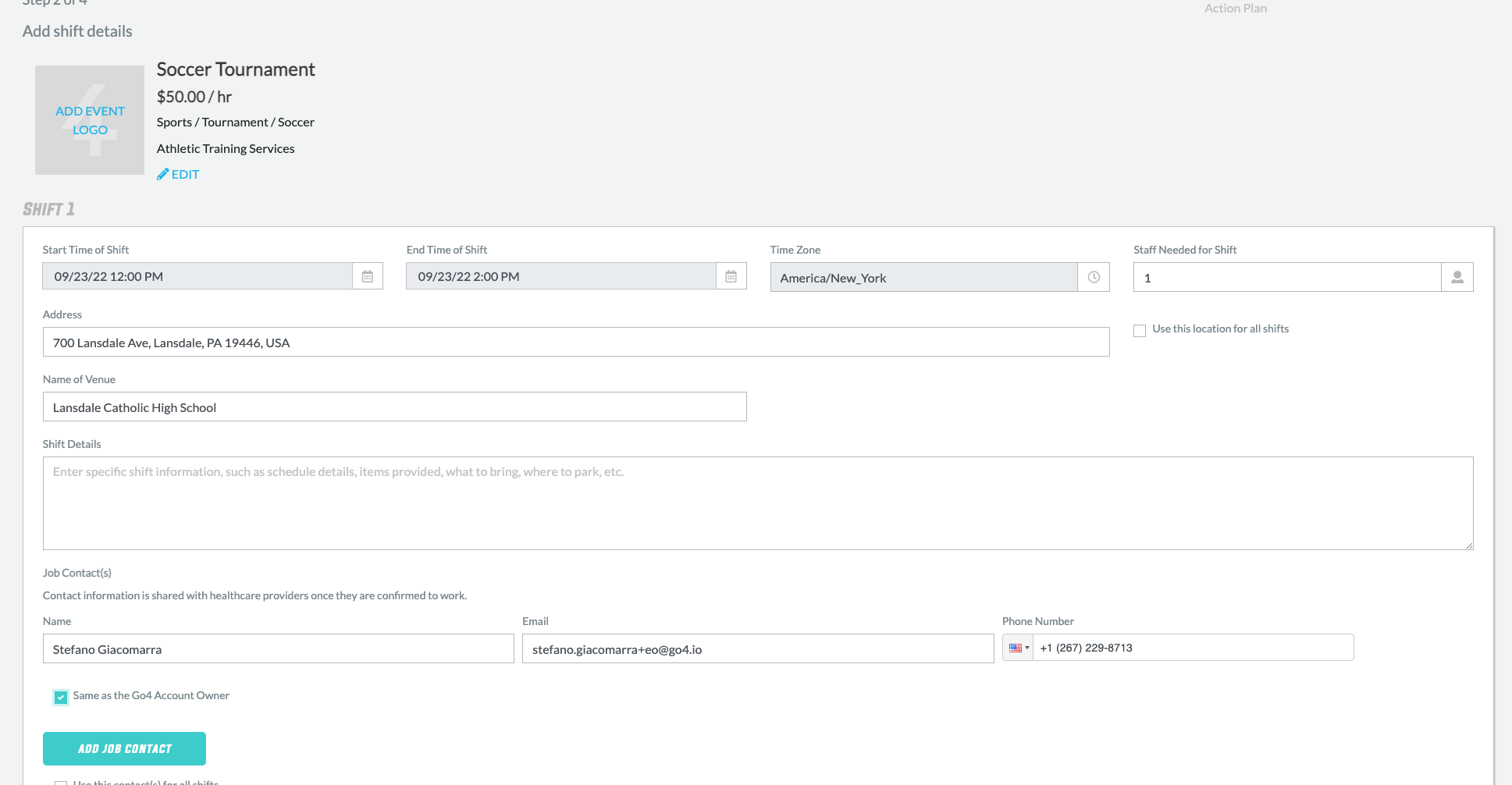 Repeat Shifts - The option to repeat a shift can drastically cut down the time it takes to add jobs to the Go4 job feed.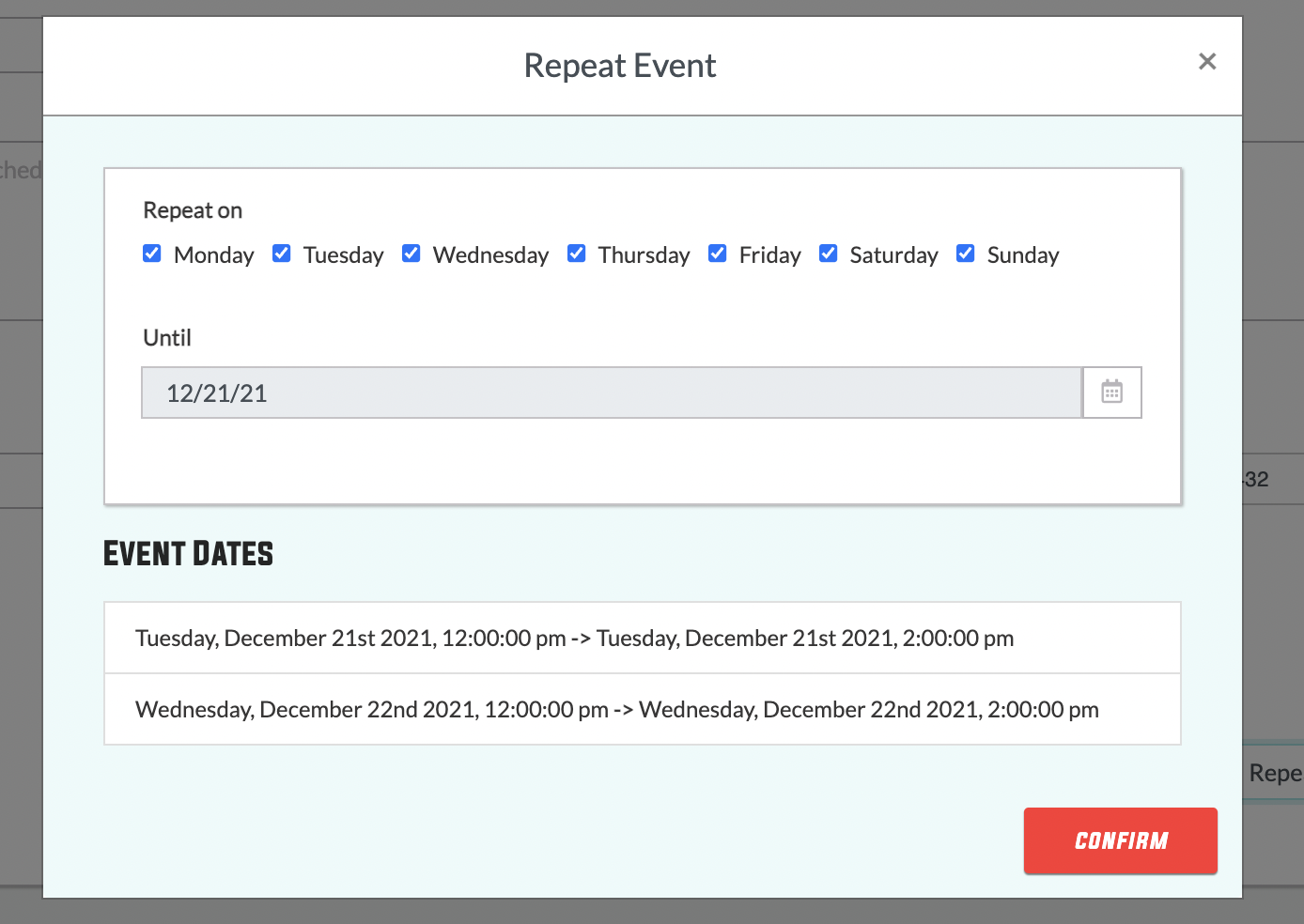 Step 3 - Review and Complete the Emergency Action Plan
An emergency action plan (EAP)

is important to have for sporting events or large venues. It helps the staff you hire know exactly what to do in an emergency, along with access points, people to contact, and placement of equipment. You have the ability to upload an EAP or generate one using the Go4 app.

For information on the Emergency Action Plan, click here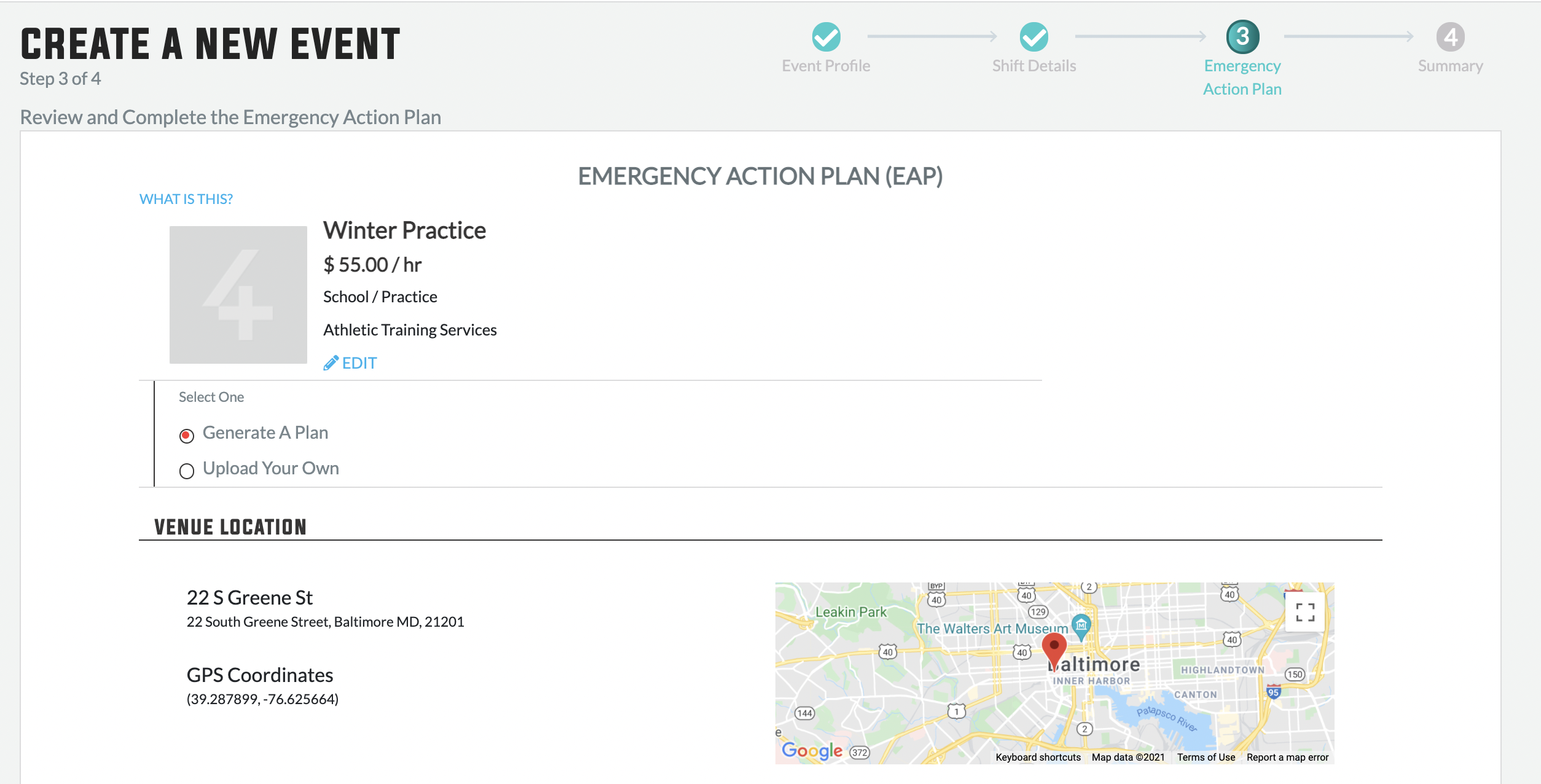 Step 4 - Summary and Billing
At this step, you must add a payment method (credit card or bank account) for the job.
You are not charged to post a job onto the Go4 Job Feed. You are only charged for shifts that are worked.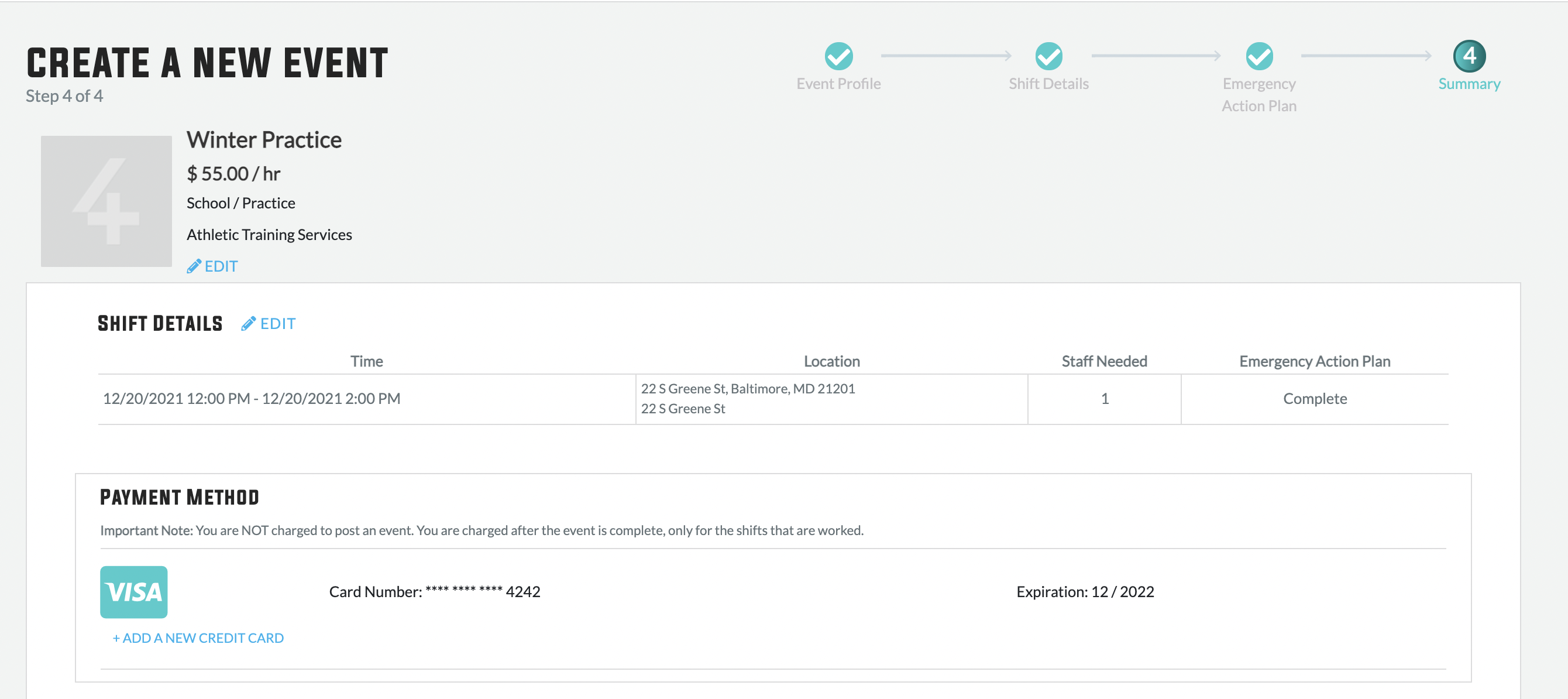 Once your Job is posted, it will be marketed out to Healthcare Professionals in the area. You will be notified by email once you have applications. For information on how to review and accept an application, click here