Credentials are the necessary paperwork that you must store on Go4 to prove that you are an Athletic Trainer that follows best practices. Before you can apply for a job on Go4, you must add required credentials to your profile.
STEPS TO ADD OR EDIT CREDENTIALS
1. Log in to the Go4 app on your phone. (Make sure you have the latest version downloaded from the app store!)
2. Click the upper left-hand corner hamburger icon (icon with 3 horizontal lines) and select Credentials
3. You will see a list of auto-populated credentials highlighted in grey. Click ADD next to the credential you would like to upload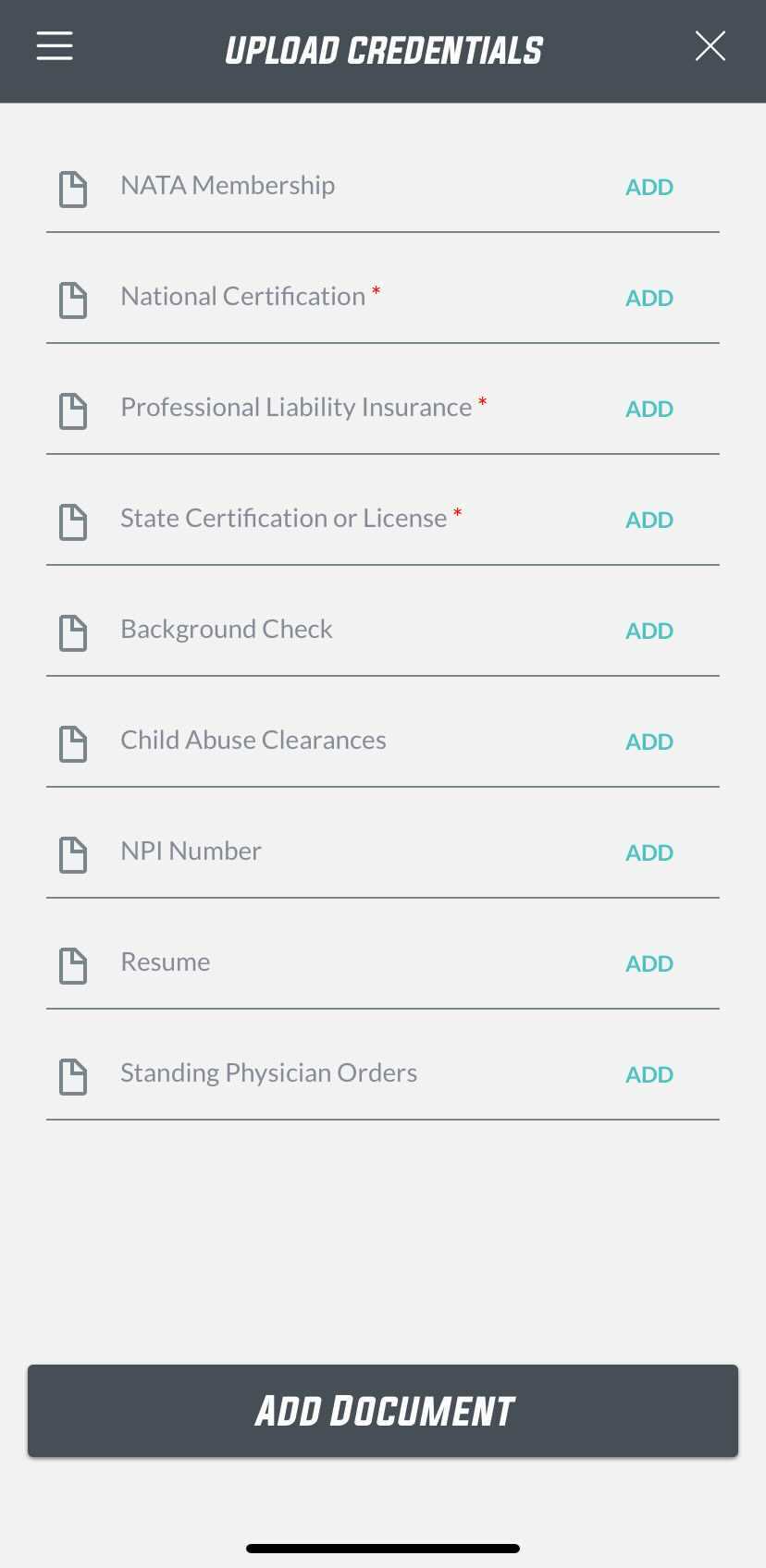 4. Add all required information per credential
REQUIRED CREDENTIALS FOR Go4 ATHLETIC TRAINERS
National Certification
You must add a copy of your BOC card. If you don't have a copy you can obtain a digital copy HERE.
If licensed in Texas, your Texas Certification can take the place of a National Certification.
License
The jobs you are able to view and apply to on Go4, are based on the license you add to your profile.
In rare instances, states may offer reciprocity and this is written into the state practice act. You can review your state practice act here.
If you live in California, you do not need to add a state license credential to the Go4 app, as there is currently no state regulation of athletic training.
Professional Liability Insurance (PLI)
Go4 requires Professional Liability Insurance with a minimum of $1,000,000 per individual instance and a $3,000,000 fate. Questions on PLI? Click here.
OPTIONAL CREDENTIALS FOR Go4 ATHLETIC TRAINERS
Standing Orders
Requirements change state to state. Questions on Standing Orders? Click here.
Child Abuse Clearance
Requirements change state-to-state and organization-by-organization. Check your state practice act and state laws for the required documentation. Some Job Posters may require additional background checks.
NATA Number
You do not need to be an NATA member to work a job on the Go4 platform. If a member of the NATA, you can input your NATA number in the credential section.
Resume
A resume is optional, but it boosts your profile by showcasing your experience. We have found that healthcare professionals with resumes in their profiles get hired more frequently than those without.
NPI Number
An NPI is a unique 10-digit identification number used in standard health care transactions. It is issued to health care professionals and covered entities that transmit standard HIPAA electronic transactions (e.g., electronic claims and claim status inquiries).