Go4 has two Pay Rates to choose from:
Hourly Rate
A job (if worked) will cost the Hourly Rate x Hours Worked + Fees*.
Flat Rate
This is a single rate for the entire shift, that is charged to you, the job poster, and paid to the healthcare professional once when the shift is over. For example, if a shift is Mon-Fri, and you select a Flat Rate, the payment will process on Friday when the shift is complete.
In Step 1 of creating your event, you can click on the AVG Rate in Your State Icon which will show the average pay rate that transacts for every state: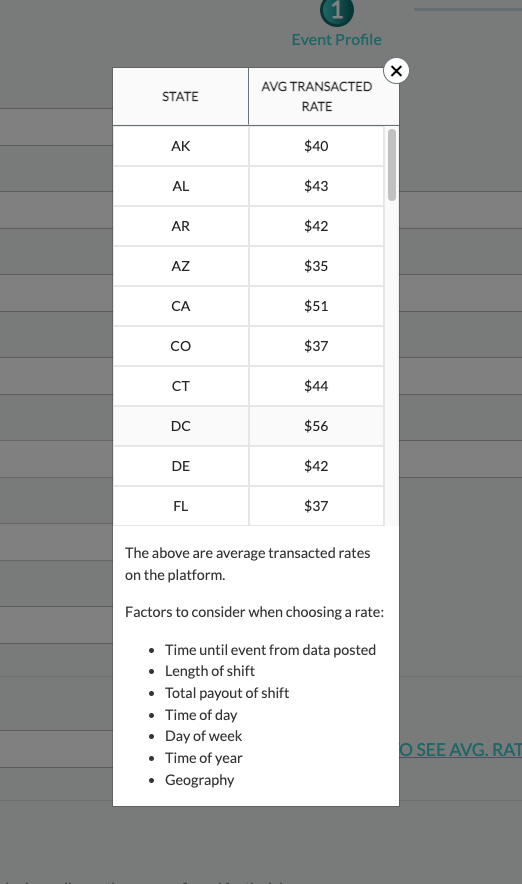 Some other things to consider when setting your rate to find a healthcare professional:
How Close to the Start of the Job Are You?
Most Healthcare Professionals have full-time jobs and will plan their per diem jobs months in advance. So, if you are posting your job within two weeks from the start date, you will want to post for $50 or more per hour to attract candidates.
How Much Should I Pay?
We don't dictate prices.
Job Posters can set whatever pay rate they want, however, there are several factors that you need to consider that can impact the chances of your job being filled.
90% of ALL shifts are filled at a rate over $50/hr
What Day and Time are the Job?
Short weekday afternoon jobs during the traditional school year can be more difficult to fill than longer weekend jobs for a couple of reasons:
Most healthcare professionals have jobs that require afternoon hours commitments; i.e. covering their own school's practices and games.
Healthcare professionals are looking at the total pay for a job. For example, while an afternoon job on a weekday might have a higher per-hour rate, a weekend job with a lower rate and more hours will have a higher total payout.
Shift Length
Our data shows that shorter shifts (under 3 hours), especially on weekday afternoons, are difficult to fill. A higher pay rate can help here.
Time of Year
During the summer, the number of tournaments on weekends increases dramatically, so the demand for healthcare professionals increases as well. While the per-hour pay is important, Healthcare Professionals also look at other things when deciding to pick up a job, such as meals and if/or supplies provided.
Geography
If you are far from a metropolitan area, consider increasing your pay rate to help compensate the healthcare professional for travel to the job.
If you need assistance figuring out a pay rate, one of our account managers would be happy to help. Send us an email at contactus@go4.io.
*Service fees for job posters on the Go4 platform are 12.5% for hiring athletic trainers and 17.5% for hiring registered nurses. The rate difference for registered nurses is due in part to the more specific nature of nurse licensing and credentialing, and the verification process that RNs on the platform undergo. *Please note that utilizing an American Express credit card will increase these fees.