Go4 partners with Players Health, a leading sports insurance provider, to offer Athletic Trainers professional and general liability insurance that provides coverage 24/7. Created by Athletic Trainers specifically for Athletic Trainers, this policy provides professional and general liability for the price of a PLI - only policy.
Players Health Athletic Trainer PLI + GL
| | | |
| --- | --- | --- |
| Coverage Type | Coverage Limit | Description |
| Professional Liability | Up to $1M/ $3M | Covers mistakes made in professional services given to a customer or client, also known as errors and omissions insurance (E&O). |
| General Liability | Up to $1M / $3M | Protects from claims of bodily injuries or property damage caused by the business. Comprehensive General Liability is automatically included, which could be higher on competing policy providers. |
| Products-Completed Operations | Up to $1M | Covers liability claims resulting from your business' product or completed operations that occurred away from your location. |
| Personal and Advertising | Up to $1M | Covers malicious prosecution, slander, libel, wrongful eviction, violating a person's privacy, and copyright infringement. |
| Legal Representation | Included | Assigns an attorney to represent your interests in covered incidents. Legal fees and expenses are in addition to your professional liability policy limits. |
| Licensing Board Reimbursement | Up to $1M / $3M | Covers attorney fees or other expenses from an investigation or proceedings from an entity responsible for regulating your profession. |
| Deposition Expense | Up to $1M / $3M | Covers all reasonable fees, costs, and expenses to represent you at a deposition you are required to attend. |
| Medical Payments | Up to $25,000, all persons | Covers medical expenses incurred by others due to a bodily injury caused by an occurrence during the policy period. |
| Damage to Property of Others | Up to $300,000 | Covers damage to the property of others caused by you during the policy period. |
| First-Party Assault Coverage | Up to $1M / $3M | Covers medical expenses or repair or replacement of personal property due to an assault at your workplace premises. |
| Occurrence Policy Form | Included | Covers incidents that happen during your policy period regardless of when the claims are reported. |
| Sexual Abuse / Molestation Coverage | $25,000 / $100,000 | Provides coverage for incidents of sexual abuse or molestation. |
| Portable | | |
Purchase Players Health PLI + GL
You can purchase an insurance policy directly through the Go4 app!
To start, log in to your account and click on the three horizontal lines icon on the top left. From there, click PURCHASE PLI at the bottom to get started.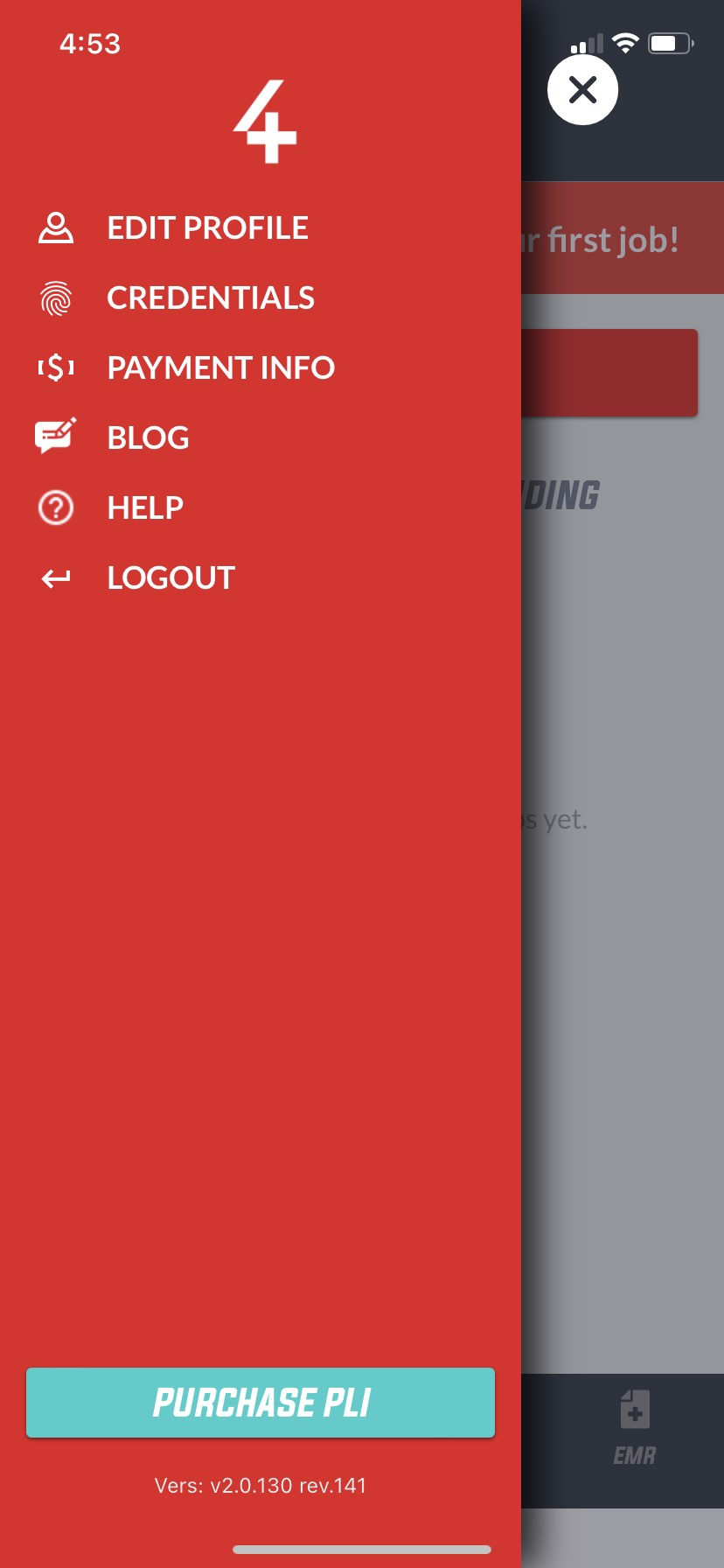 From there, you will see all of the coverage details provided. Click on the + symbol to expand details about the different coverages our policy provides.
Click BEGIN APPLICATION to get started. It takes 2 minutes or less to complete!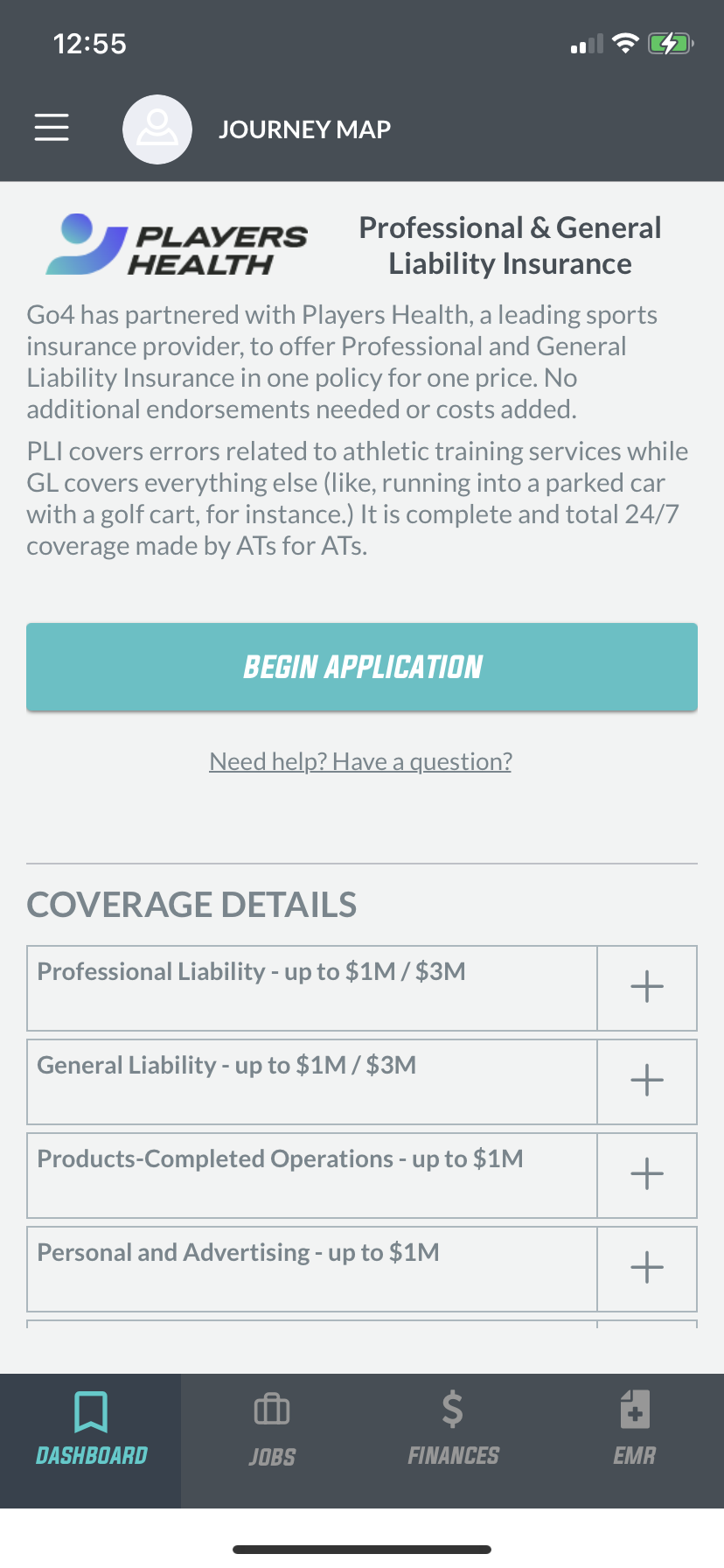 Confirm your information to get started. The default info is prefilled from your Go4 Account Profile. You can edit any information on the page before continuing. Click NEXT.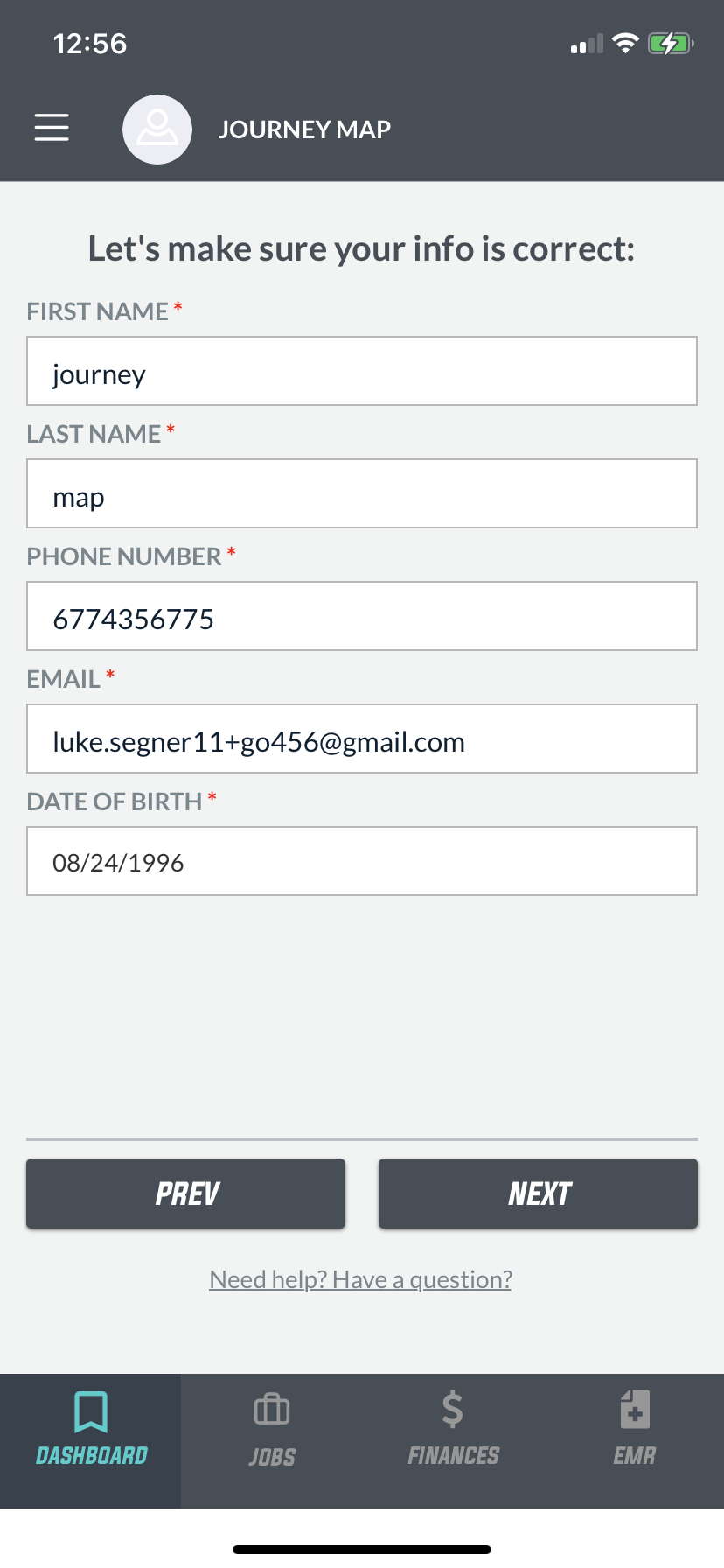 The second page is your Address information. This is prefilled from your Go4 Profile. Confirm the information and click NEXT.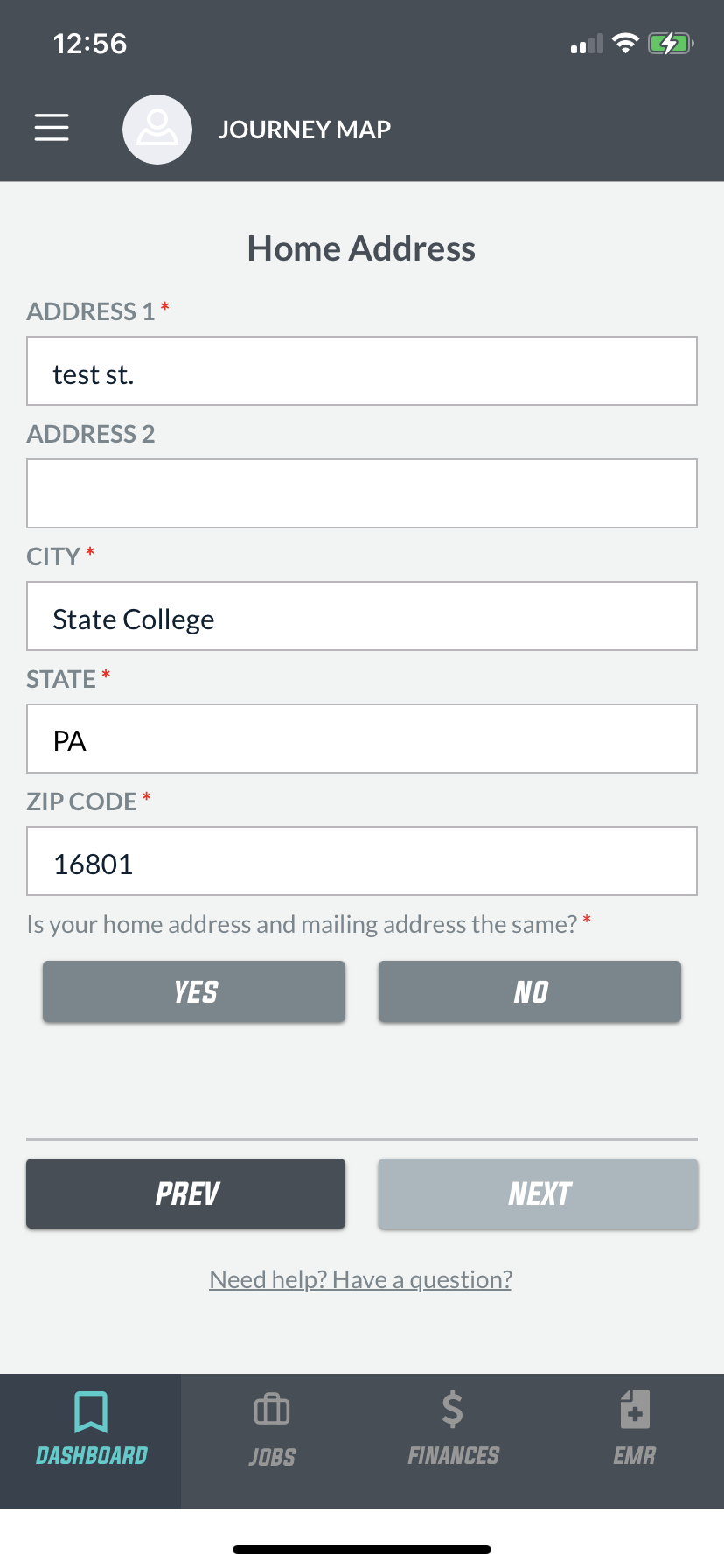 Next, you will be asked about your employment type. Select the appropriate answer and hit NEXT.
If you select SELF-EMPLOYED, you will be asked "How many hours per week do you work as an AT?"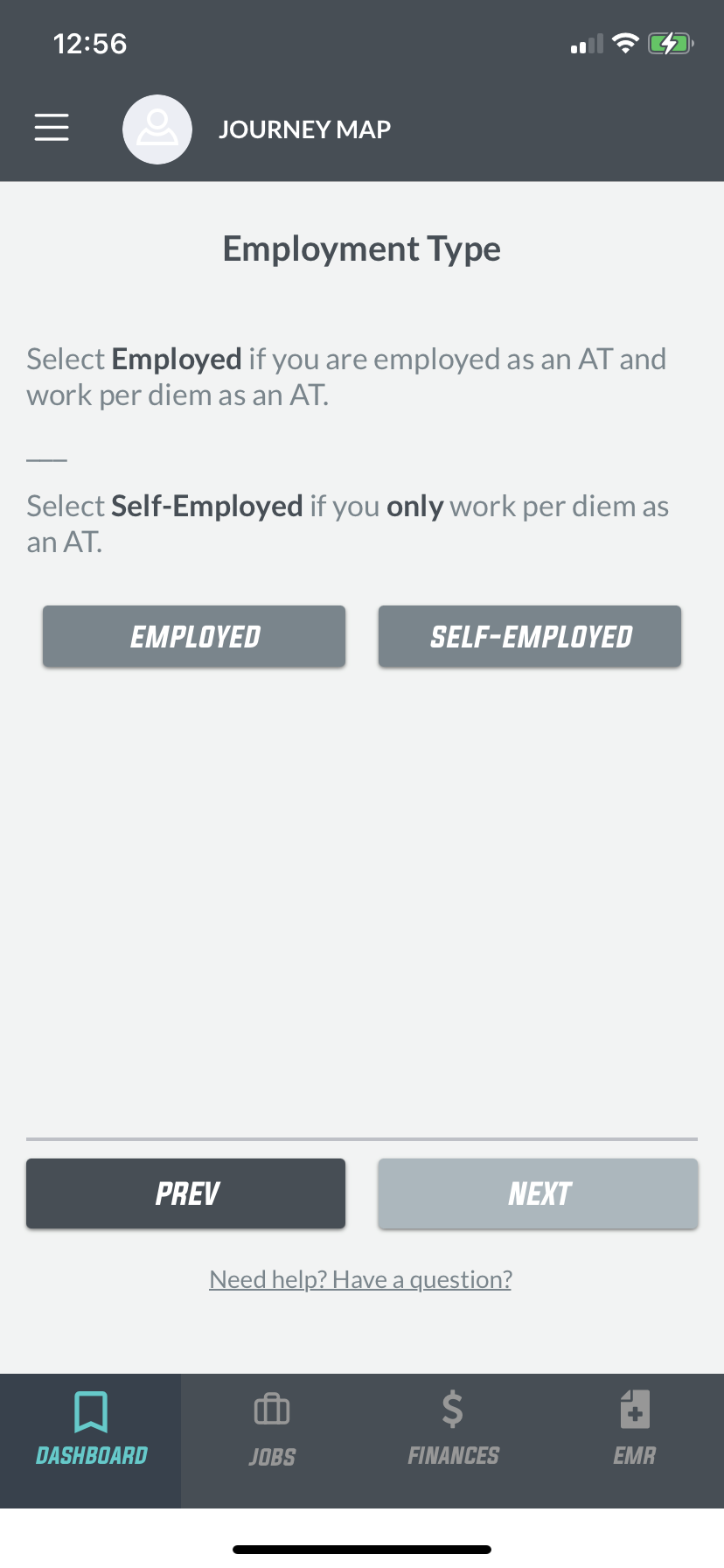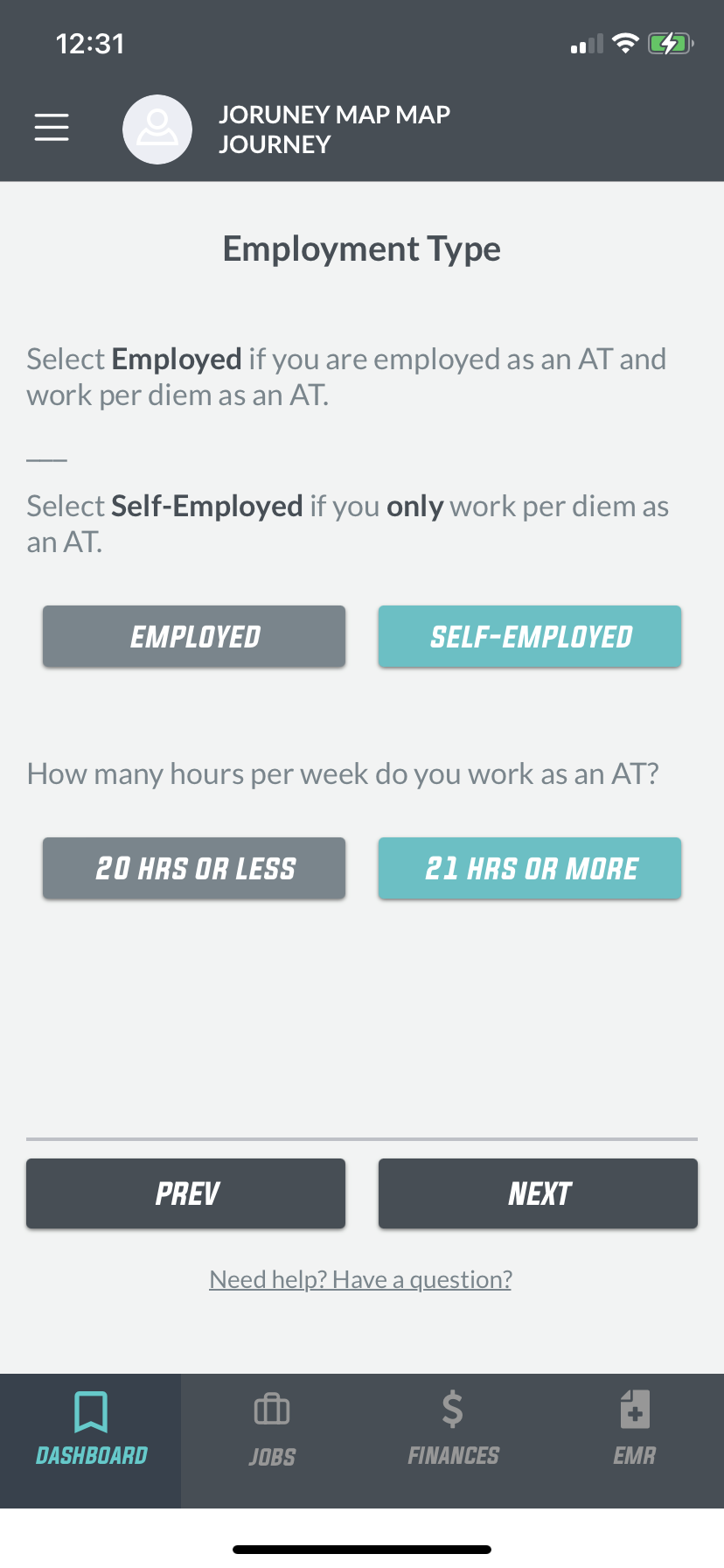 Next is the Coverage effective date. Select the date for which the coverage would begin. Then click NEXT.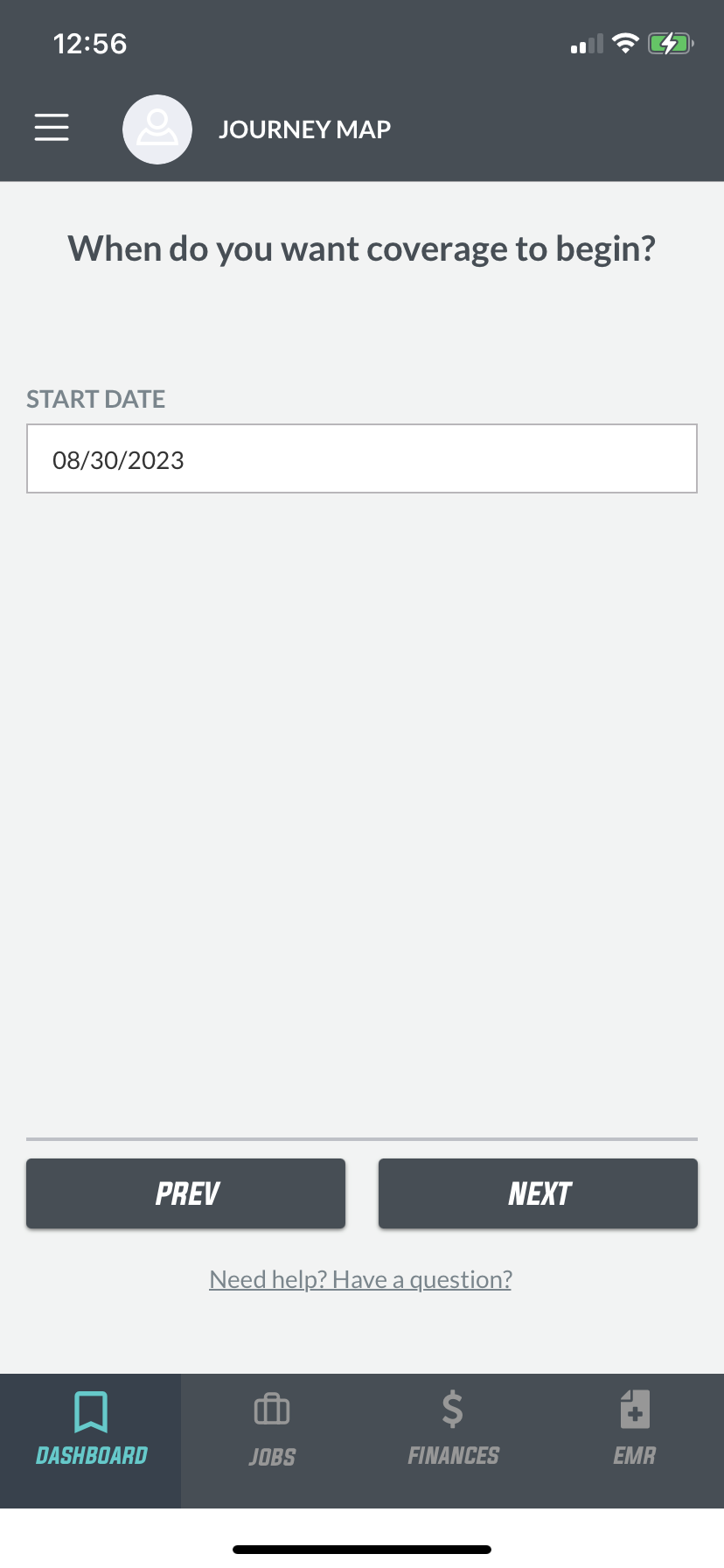 Next are two underwriting questions. Both questions must be answered before moving on.
Should you enter YES to any question, a required explanation box will appear before you can move on
If you select SELF-EMPLOYED, you may be required to answer more underwriting questions. Answer those before moving on.
Next is the Warranty and Disclosure agreement. Please read through it carefully, click the I Agree icon, then click NEXT.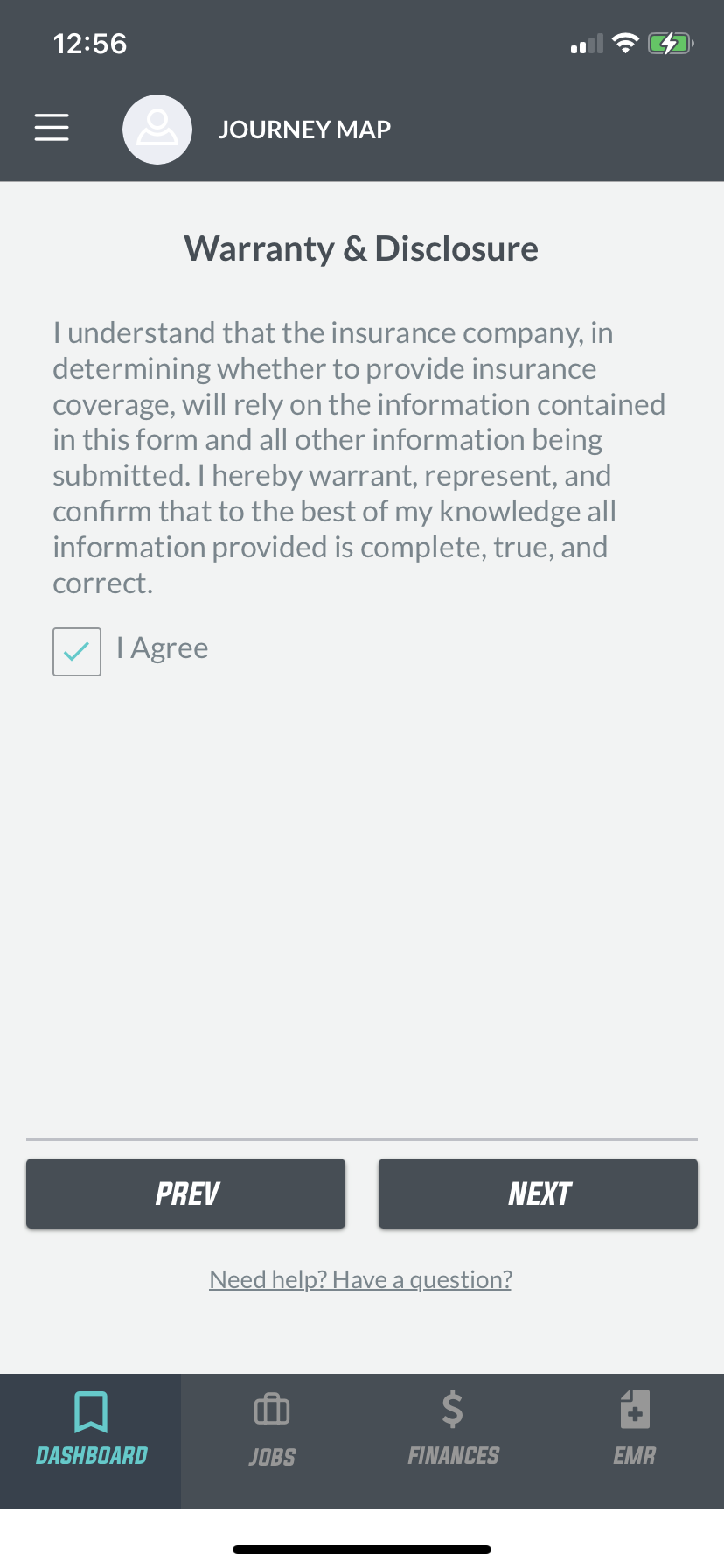 If you are denied a quote, please select contact us for more information and we will be happy to help you.
If accepted, your Annual Premium amount and quote details will display. Please read through carefully before deciding whether to Purchase or Decline the policy.
If Decline is selected, the screen will come back to the PLI credential page in the Go4 app.
If Purchase is selected, you will be prompted to put in credit card information for the one-time annual payment. Enter the information and click SUBMIT.
Congrats, you are covered!
The policy you purchased is automatically uploaded to your Go4 credential section. Now you will be able to apply for jobs on the Go4 app. Additionally, your Certificate of Insurance is emailed to you for your records.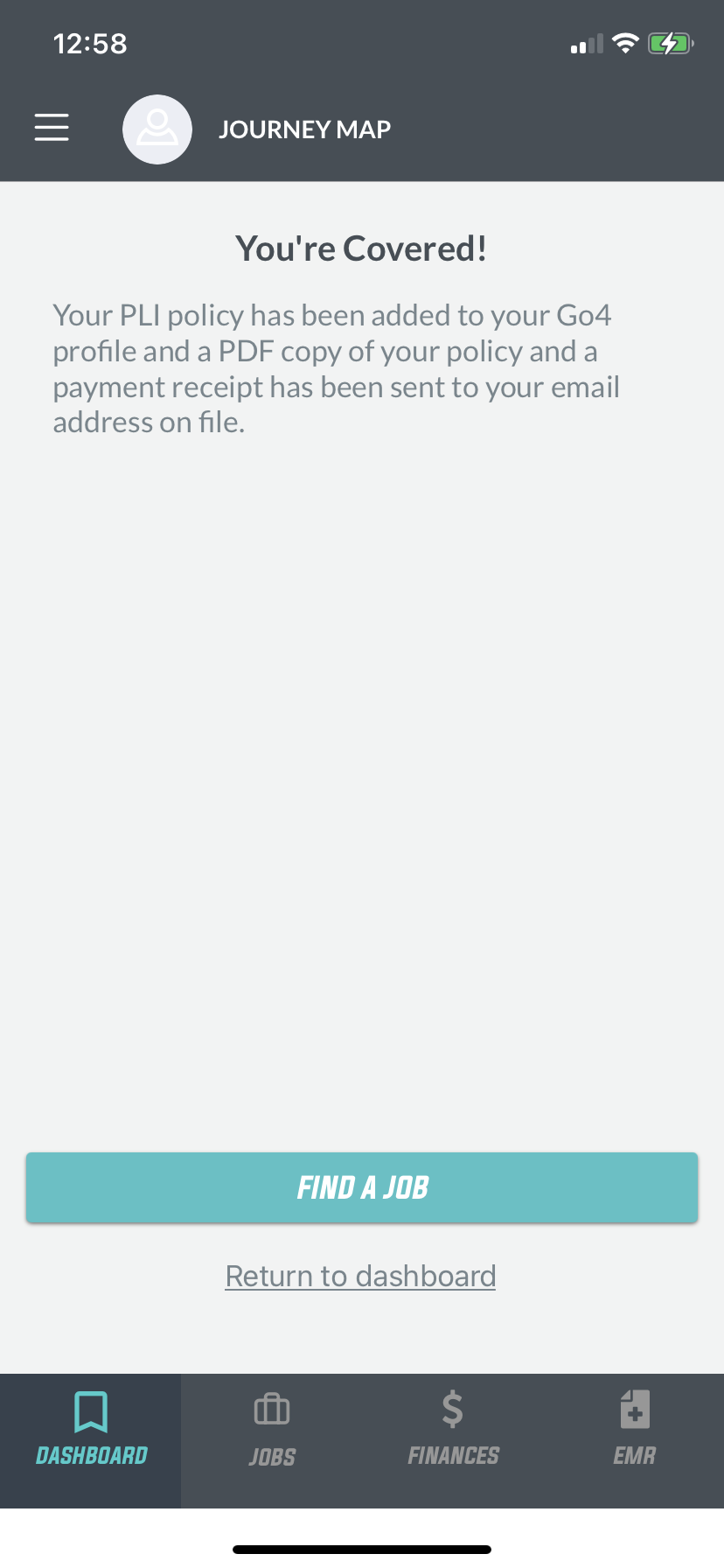 Manage your PLI + GL Policy
After a successful purchase of a policy from Players Health, the Expiration Date and COI are automatically added to the PLI MODIFY CREDENTIAL page.
To view the details of your policy, click on MANAGE PLI. Should you have any questions about the policy, you can reach out to the appropriate email.